Mount Nebo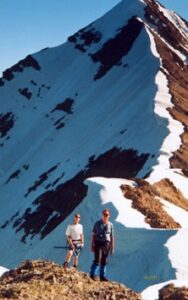 Description: Mount Nebo's 12,930′ summit straddles Utah and Nebo Counties and is the highest point in the Wasatch. It's a relatively taxing hike with a couple steep sections. It's more open and slightly less scenic than many other local mountains, but still an important hike to add to your tic list.
Be sure you have and know how to use crampons and axe if you climb this steep mountain in the snow.
Distance:
Elevation gain:
Steepness: Fairly steep at times.
Notable Features:
Amenities: Pit toilet at trailhead.
Fees: None.
When to go: Summer, fall unless you're a trained winter mountaineer.
Directions: Drive up Payson Canyon and continue on and on and on and on until immediately before the road begins dropping down into Nebo Canyon, then park in the lot to your right (Blackhawk Campground is probably the last sign you pass before this, on your left).
Hike down the dirt road, then take the trail that very soon cuts off along the ridge going west toward Nebo. Follow that down through a "gulch", then back up the steep mountainside to gain the summit ridge. From there, continue along the trail south to the summit.