Hunger on Gobbler's Knob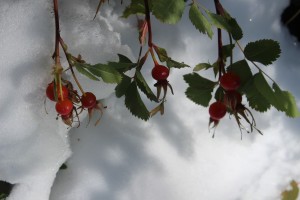 We set out for a short hike to Majestic Peak one fall afternoon, but when the parking lot was packed, we passed it up and continued to Porter Fork to enjoy greater solitude.
At first we planned to hike to the spring, but once we arrived, the trail beyond beckoned and we kept going and going until we were nearly atop Gobbler's Knob.
Unfortunately, we hadn't exactly planned for such a long hike and my food ran out. It wasn't like I was about to die, but my stomach sure felt empty, and it affected my energy level to some degree.
Luckily, we happened to pass the biggest, juiciest rose hips I had ever seen. I gathered a handful or two, and each time the hunger pangs threatened to gnaw their way through my stomach, I popped a few in my mouth, chewed for a while, then spit out the fibrous seeds.
My girlfriend didn't run out of energy food for a while after I did, and I couldn't talk her into trying the rose hips. Her loss! Usually I find them rather sour, but these reminded me almost of berries that you'd bake in a pie.
The lesson here is: be prepared. Be over prepared. You never know when plans may change or your hiking partner may show up underprepared :). The other lesson is: learn your edible plants so you can look cool (and feel better) when you fail at lesson #1.